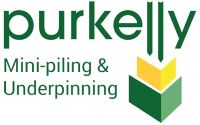 PURKELLY BROS LTD
Address
Underpinning & Superstructure Repairs
Unit 3, Bilton Road
Cadwell Lane Industrial Estate
Hitchin
Herts
SG4 0SB
United Kingdom
Email
Click to email
Web
www.purkelly.com
Tel
020 7272 4664
Fax
020 7281 8769
Category
UNDERPINNING AND SUBSIDENCE REPAIR TECHNIQUES, MINI PILING CONTRACTOR
BASEMENT CONTRACTOR: Domestic Retro-fit under £300,000
CONTRACTOR ASSESSMENT SCHEME (CAS)
Company Description
Purkelly has a core of long serving highly professional staff: working directors, managers and site foremen who provide comprehensive and continual supervision on site throughout each contract.
Because no two contracts are ever the same, we operate a flexible working system and build each project team around the individual skills required for that job.
- foundations planning and building regulations consultancy
- traditional, pad & beam, piled underpinning solutions
- basement design, building regulations, creation and extension
- new foundations and drainage
- contiguous piling retaining wall construction
- superstructure brickwork repairs, re-pointing & rendering
- repairs of subsidence damaged roof, chimneys and drainage
- internal carpentry, joinery, services, plastering and decor
Our base is located in the heart of our main operations area which means we can react rapidly when materials and specialist plant and equipment are demanded at short notice.
Services
Mass Concrete
Reinforced Concrete Beam And Base
Driven Piles In Restricted Headroom
Augered Piles In Restricted Headroom
Bored Cased Piles
Piled Raft
Superstructure Repairs
Asuc Insurance Backed Guarantee